THIS IS WHAT I DO FOR A LIVING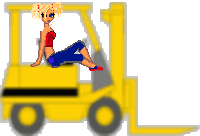 ---
Yup, this 60 year old Grandmother of 4 is the only female that works in a warehouse with 22 men, which is not easy.

---

All they seem to talk about is Golf ???

---

Well maybe you know how it is. Most of the guys are pretty good with me. So I try not to complain too much.
But then again I'm not the easist person to get along with.

---

Most of the time I drive a PLATFORM-LIFT. It goes the height of a standard size warehouse. The whole thing rises with you in it, only the motor and battery stay on the floor.

---

I also operate a Raymond 'Hi-Rise' when I'm at our other job-site. Now this baby will go as high as it is designed for: ours went 4 or 5 stories up, and to qualifiy for a license you had to repel ( jump ) off the back.
I sure did not like that !

---
Home